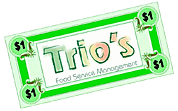 Promotions and Specials
To maximize use of your hospitality location, we offer at reasonable prices popular daily combos such as grilled chicken breast w/ steamed vegetables and rice or pasta and veal parmigiane w/ caesar salad and roll. Often, we take advantage of special occasions to offer "themed" meal selections.
Here are just a few examples:
| | |
| --- | --- |
| | Thanksgiving — turkey lunch special |
| | St. Patrick's Day — a green macaroni and cheese lunch |
| | St. Valentine's Day — heart shaped chocolate cake |
Signage
Strategically located signage, featuring professional product photography, ensures high awareness and strong demand of all regular and special menu selections.
Customer Surveys
Comment and Suggestion Boxes are available to gather customer feedback on our hospitality and food service operations. All submissions are carefully reviewed and – to the extent possible – are acted upon promptly as part of our commitment to continuous improvement.